BeBeLove Triple Jogging Stroller Review
The BeBeLove Triple Jogging Stroller is a fairly lightweight stroller considering its size. The stroller is built with a steel frame and fixed wheels to enhance the jogging experience. Stroller setup is fairly easy. The wheels are removable if need be for storage and glide nicely when in use. Three children are able to ride comfortably in the stroller side by side in reclining seats instead of in a tandem stroller where children can't see or interact with each other much. Children are provided shade with the retractable canopy with a sun visor. When not in use the stroller folds up completely to help with storage. BeBeLove provides attractive and safe products for parents and this stroller is a fabulous example of those products. It is attractive as well as functional for the parents and safe for and the three children in the stroller.
The BeBeLove Triple Jogging Stroller is designed for
Parents interested in attractive, functional and dependable equipment.
Active parents who want to exercise with all three children.
Parents who want their children to be safe while in the stroller.
Active Parents who need plenty of storage available while jogging.
Important Features of the BeBeLove Triple Jogging Stroller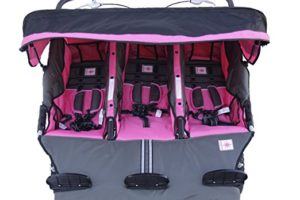 USA Green Triple Stroller includes a light weight steel frame which enhances the safety for the children. The stroller also includes not only dual hand brakes but a foot brake and park brake as well. Children are not only safe but comfortable in the individually reclining seats which include a five point safety harness. Child comfort is also enhanced by the retractable canopy which protects from the sun and other weather elements. Each seat also includes a sun visor which can allow parents to check on children as they jog. Parents do not have to worry about carrying extra bags as the stroller comes complete with quite a bit of storage. There is a large storage are under the triple seats as well as back seat pockets and cup holders.
Cons of the BeBeLove USA Green Triple Jogging Stroller
The canopies can fly up in medium to strong winds.
Setup instructions could be written in a more clear manner
Does not fit through a regular doorway when in use.
FAQs
Q. Is stroller easy to fold and unfold?
A. Yes, the stroller is easy to set up and to put away. Wheels can remove if you are trying to put the stroller in an SUV.
Q. Does the stroller have storage space?
A. Yes, there is ample space under the seats as well as back pockets to hold all baby and parent equipment.
Q. What are the safety features?
Each seat has a five point harness. There are dual hand brakes as well as a foot brake.
One of the most useful insider tips is the engage the brakes by flipping the metal hinge on the side in order for the brakes to function properly.
In summary, the BeBeLove Triple Jogging Stroller is the best triple stroller to allow children to sit side by side. This is better than a tandem stroller in that the children can see each other and can reduce arguments over the front seat or kids kicking each other. The stroller folds and sets up easily and can be stored without the wheels in an SUV or other vehicle. It has many safety features including a five point harness for each child and hand as well as foot brakes. Children can be checked on while the parents are running by lifting the sun visor. The retractable canopy help to protect Children from the sun. Overall, the BeBeLove USA Green Triple Jogging Stroller is the perfect choice for active parents who want to take their children with them to walk or run.
Summary
Reviewer
Review Date
Reviewed Item
Author Rating