What to Consider When Buying a Jogging Stroller
Investing in a jogging stroller is a great idea! You will be able to exercise comfortably with your baby—it will be a lot of fun for the both of you. Jogging strollers come in a wide variety of styles and colors, so finding the best one for you will take some consideration.
Jogging strollers need to be sturdier than regular strollers. You'll probably be jogging on concrete most of the time, so the stroller needs to be strong enough to endure the hard surface while you're jogging at a fast pace.
What Are The Things I Should Consider While Buying a Jogging Stroller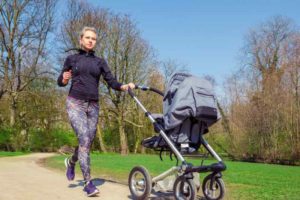 There are several elements to consider when purchasing the best jogging stroller. But, don't be overwhelmed! We have it all taken care of for you.
Wheels
First, let's talk about the wheels of your jogging stroller. Unlike regular strollers that have four wheels, jogging strollers only have three wheels. Typically, they measure between 12 and 24 inches—they are much larger than the wheels on a regular stroller.
The larger wheel size is designed to let you easily push the stroller over rough, hard surfaces. You will probably be jogging around your neighborhood or to the park, so the large wheels will help you go over surfaces like gravel, dirt, concrete, and grass.
The wheels on a jogging stroller resemble small bike tires. They need to have their air pressure checked every so often as well. You can easily inflate the wheels with a bike pump if you have one. Unfortunately, jogging stroller wheels can go flat if you go over something sharp. But the good news is, you can top up the tires when you need to, like you would on a car.
The front wheel of your jogging stroller is something important to pay attention to. There are two kinds of front wheels—fixed and swivel wheels. This front wheel determines how you will use your jogging stroller.
Fixed Wheel-

A fixed wheel looks like the rear wheel on a bike. It is locked in one position and can't move. It easily moves over objects when you aren't jogging on a flat surface. Jogging strollers with fixed wheels are made for parents that are pretty serious about jogging and running. It's a must if you're running long distances and if you're planning to participate in public races, like 5Ks or marathons.
Swivel Wheel-

Swivel wheels are a little more laid back. It's very similar to the front wheel on a bike—it can turn left and right. It makes your jogging stroller easy to steer, but that also means that you can't be running too fast. If you go over a bump or rough surface, the wheel can easily turn and you will have to pull it back to keep going straight.
Basically, fixed wheels are made for serious exercising, and swivel wheels are made if you want to simply go on a relaxing job around the neighborhood.
Tires
The tire thread and width are also features to take into consideration when purchasing a jogging stroller. Tired come in two forms—bumpy and smooth. The bumpy texture provides better grip when you're on a rough or slippery ground. The smooth texture will help you easily move your jogging stroller through crowded areas.
The width of the rubber on the tires will determine how easy it is to push the stroller when off-road. Wide, fat tires will flatten out on a hard sidewalk, but will go through uneven terrain with no problems.
To sum things up, if you plan on taking your jogging stroller off-road, then getting a stroller with fat tires is a good idea. If you will use your jogging stroller mostly on hard, flat surfaces, then getting thinner tires is better. It all depends on where you intend to run and jog.
Spokes and Rims
The rim and spokes are inside the tires. They help the wheel keep their round shape while supporting the weight of the entire jogging stroller. Usually, they come in two types—metal and plastic.
Metal Rims-
Metal rims look like the rims of a bike. Metal spokes might not make the wheel structure look as fancy as some of the plastic designs, but they are very practical and will provide a smoother ride for your baby. It might be a good idea to invest in stainless steel spokes because they will be resistant to rust even when wet.
Plastic Rims-

Plastic rims and spokes are similar to care tires. They look prettier than the metal types but are much lighter than metal types as well. The only downfall is that plastic is not nearly as durable as metal, and it is prone to fading. Scratches and other marks can easily damage plastic rims and spokes. However, if you're doing some leisurely jogging or walking, plastic wheels probably will be fine for you.
Suspension
Behind each wheel on your jogging stroller, you will find a coiled spring. This is a shock absorber and is part of your stroller's suspension system.
Shock absorbers allow the wheel of the stroller to bounce up and down without the rest of the stroller, and your baby, bouncing in the same motion. Some jogging strollers have adjustable shocks, which allow you to adjust the bounciness level.
The shock absorbers are usually on two rear tires, but some strollers have a shock absorber on the front tire as well. You will only need a shock absorber on the front wheel if you are using a double jogging stroller.
Some cheaper models of jogging strollers don't have suspension system at all. This means a rough ride for your baby, so it's definitely best to get a stroller with a good suspension system.
Brakes
There are two different types of brakes for jogging strollers. One will help you slow down while the other will keep your stroller from rolling away if you take your hands off it. The brakes are the main safety feature of a jogging stroller, so make sure you get a stroller with reliable brakes.
Most jogging strollers have foot brakes, which prevent you from having to bend over to unlock the wheels. It is definitely a must-have feature on a jogging stroller.
A handbrake will allow you to have complete control while jogging on hills. It is usually attached to the handle bar, and all you need to do is squeeze it to slow the stroller down. However, hand brakes are only found on strollers with fixed wheels.
The good news is, parking brakes are usually on all jogging strollers. So if you stop to catch your breath or get a drink while jogging, you can put on the parking brake so you don't have to worry about the stroller rolling at all. This is the safest scenario for both you and your baby.
Handlebars
Handlebars come in two types—adjustable and non-adjustable. Adjustable handlebars are perfect if you're sharing the stroller with another person, or you're much taller or shorter than an average height.
Handlebars that are at an incorrect height can affect your jogging form, so buying a jogging stroller with adjustable handlebar height is a really good idea.
The only downfall of getting adjustable handlebars is that there will always be some up and down movement of the handlebars, which you might find to be annoying. The advantages of adjustable handlebars definitely overcome the disadvantage.
Seats
The seat in a jogging stroller is made for the comfort of your baby. You're going to want seats that will keep your baby happy during long runs and jogs.
Get seat padding that is soft and washable. Padding varies from brand to brand, but it will most likely be washable. Some jogging strollers have a safety harness strapped to the seat for particularly bumpy jogs. This is an absolute must—it will secure your baby's upper and lower body.
Investing in a reclining seat is a good idea because it will reduce the impact of bumps on your baby's body. There are some jogging strollers that have adjustable seats and adjustable reclining.
Folding
Jogging strollers are much larger than regular strollers and as a result, they do not fold small. There are two ways that your jogging stroller can fold—with a folding mechanism or compact folding.
Folding Mechanism

– Jogging strollers that use a folding mechanism are very easy to use. Just remove your baby from the seat and find the button or lever on the side of the stroller. Push it, and the stroller will fold up automatically. This means that you can fold up your stroller using only one hand, which is a huge advantage. The only disadvantage is that a folding mechanism is bulky. But that's not a huge deal.

Compact Folding

– Compact folding requires you to use both of your hands, but it has a much smaller fold than that of a folding mechanism. With compact folding, you need to remove the wheels of your jogging stroller and fold the frame down. It takes a few minutes, but it's great because you can store the stroller wheels separately from the frame. This is perfect if you have a small car or don't have much storage space in your home.
Storage
Leaving the house with your baby means that a whole bunch of other stuff is going to come with you. Diapers, baby wipes, food, bottles…the list goes on. Having storage compartments in your jogging stroller will make it easy to bring everything with you.
Most jogging strollers come with storage baskets under the seat. They normally have high mesh sides to prevent any of your belongings from spilling out onto the ground during a bumpy jog.
There are some jogging strollers that have storage pockets sewn right into the canopy. These pockets aren't very deep but work perfectly for holding small objects, like your keys or wallet.
Storage options in jogging strollers differ greatly from brand to brand, so shop around if you have specific storage requirements for your stroller.
Canopy
All jogging strollers have canopies. Some have a single piece design while others fold down. The canopy is meant for keeping the sun off your baby's skin when you are outside.
Some canopies are connected to the back of the seat while others are separate, which will allow you to move them around as you need. This will come in handy if you are jogging towards the sun when it is low in the sky.
When the canopy is up, it can be hard to see what your baby is up to in the stroller without walking up to the front to check. This is why some canopies come with a peek-a-boo window.
A peek-a-boo window is located on top of the canopy. It's a little flap that you can pull up and look through to check on your baby and make sure everything is okay.
Some other things you may want in a Jogging Stroller include:
Cup holders
Trays
Pedometers
Music speakers
Built-in toys
Check Here: How to Clean a Baby Stroller
The Bottom Line
So, as you can see, there's a lot to think about when purchasing a jogging stroller. It's all pretty simple, though. All of these features are designed for the comfort of both you and your baby, so it pays off to do a little research.
Both you and your baby are going to benefit from having this jogging stroller, so take your time and check out what the best deals are.
Happy shopping and happy jogging!